A flexible software solution for image evaluation
LabImage is a complex system for image analysis in different areas of laboratory diagnostics. Since the requirements for image analysis vary greatly in this wide-ranging subject area, LabImage users can adapt their system precisely to their specific wishes and expectations. Therefore, a large number of different apps is available. Similar to an app store for the smartphone, they can be selected, installed and updated from a central LabImage application pool.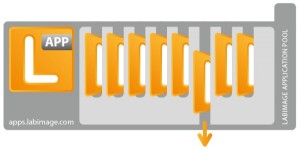 All of them are based on the LabImage Core, which provides the basic functions of the software. These include image algorithms, databases, automation, export and import functions, reporting and workflows. The respective selected app uses these basic functions and presents them on the familiar interface appropriate to the defined purpose.
Kapelan Bio-Imaging GmbH currently offers five different (commercially available) apps for LabImage:
| | |
| --- | --- |
| | 1D: LabImage 1D is suitable for image analysis of 1D gel electrophoresis. The software is able to detect and quantify traces and bands automatically. LabImage 1D is the leading tool for high throughput in 1D data analysis. It is leading as well for its 21 CFR part 11 compliance. |
| | CC: LabImage CC is designed to perform counts of cells or colonies automatically. Additionally, it detects the size and shape of the colonies. The software handles all types of analysis plates. |
| | LA: LabImage LA is the perfect analysis tool for strip-based tests such as lateral flow, line assay or Western blots. With a graphical test editor it is also possible to create own tests within the software. |
| | SI: LabImage SI allows easy measurement within a wide variety of image files. Distances as well as angles can be determined exactly. |
| | OA: LabImage OA is a tool especially for microbiological labs. The software allows automated detection, counting and classification of different colonies or cell types. It is designed to rapidly analyze a large number of Petri dishes with the highest possible precision. |
Beyond this existing portfolio, Kapelan Bio-Imaging is able to create or customize further specific apps. These range from a prototypical implementation to pharma software under 21 CFR Part 11 to development under ISO 13485.
The selection and administration of the apps is intuitive and can be carried out without elaborate explanations. They underline the flexibility of LabImage, as the software can be adapted to new requirements or methods in daily laboratory routine with just a few clicks. In addition, the individual apps within the system can be further developed over time. Thus, LabImage always stays up to date and adapts perfectly to the needs of the respective user.