LabImage Application Pool
Imaging Apps on your finger tips
A revolutionary concept for imaging apps on your desktop.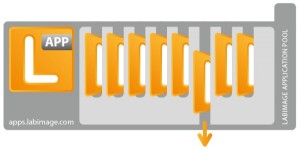 The LabImage Application Pool is a set of Apps that can be loaded directly into the LabImage Platform.
You probably know the concept from your smartphone running iOS, android or Windows Phone or others on the market. You can select from a huge list of specific apps according to your needs. Still each apps is based on the same environment and features – so an overall concept but specific enough to fit your individual needs.
Most of the providers and developers of apps and the providers of the operating systems for sure make very good profits with this business model. Why is that? We think it is because it is simple and flexible too. An app is made for a very specific need but is still based on the same enviroment so it is easy to use and intiutive. It relies on well tested core features.
With the LabImage Platform and the Application Pool we do pretty much the same. The LabImage Platform offers a rich and well tested software environment runing on different operating systems. It can be extended with specific apps. Each app is made for a specific need and can be customized.
We created the LabImage Platform to be a control center for imaging process in research and routine use. It is not only an imaging framework but a full imaging system. The LabImage Apps are the analysis modules providing exactly the image analysis steps you need in the user interface you need.
See the list of already available apps in the LabImage Application Pool. For your specific demand we can create customized apps and readers.
Get your free download and see for youself!