Name
LabImage TLC (Thin Layer Chromatography)
Description
LabImage TLC was based on the LabImage 1D and provided a complete evaluation solution for thin layer chromatography.
The run distances and sample quantity are evaluated using an adapted workflow.
For faster processing, evaluation steps can be automated using macros.
A report module provides the appropriate data reports.
At the same time, all data can be exported from the application.
In addition, full compliance with 21 CFR Part 11 was guaranteed.
Status/Client
The software was developed for a German company based in Saxony.
Field of Application
Thin layer chromatography / TLC is a physical-chemical separation process used to examine the composition of samples. The particular advantages of this chromatographic method are the low expenditure on equipment, the speed, the high separation efficiency and the low substance requirement. Such methods are used in quality control for testing sample material. For example, sample solutions of natural substances, medicines, reaction mixtures and reaction products are examined in the chemical laboratory.
What is so special?
Adaption of existing analysis modules including full part 11 compliance. 

Involved devices /imagers
Various scanners and imagers could be integrated into the software to record the samples. This integration also took place under 21 CFR Part 11 conditions.
Year
Finished in 2011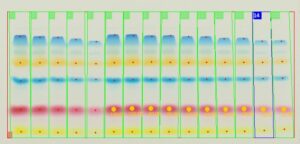 Sample TLC Image used for analysis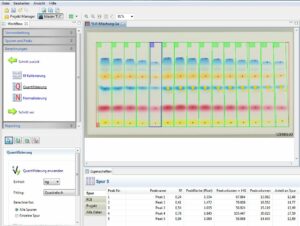 GUI Design of TLC application