Grayscale Chart Calibration Service: Precision and Efficiency for your Scanner Calibration
At Kapelan Bio-Imaging, we proudly provide our customers with innovative solutions for biomedical image analysis. We would like to introduce our new grayscale chart calibration service. With our service, you can have your reflective and transmitted light charts easily and accurately calibrated to ensure optimal performance of your scanners.
Our calibration service is based on standardized procedures defined in our own Standard Operating Procedure (SOP). We work in accordance with our ISO 13485 quality management system to provide you with a reliable, high-quality solution. Our goal is to offer you a cost-effective and efficient service from Germany. This offer is not only directed to our direct customers, but also to third parties.
We use optical densities (OD) to perform an accurate calibration. We use a chart from the Federal Office for Materials Research as a reference to ensure precise and reliable calibration. It provides a high quality and reliable reference that meets our quality requirements due to the high quality standards of the Federal Office.
Factory calibration with own calibration certificate
Our calibration is performed as a factory calibration and includes our own calibration certificate. Please note that this is not a certified process, but all specifications are carefully implemented according to our SOP. We do feel free to share our SOP to give you a detailed insight into our process. Our measurement procedures are monitored for both temperature and humidity to ensure accurate and reliable calibration. At Kapelan Bio-Imaging, we are committed to the highest standards to provide you with the best possible quality and accuracy.
Simple procedure and fast service
The process of our calibration service is simple and straightforward. You commission us with the recalibration and send us your chart. Our experienced team measures the chart and sends it back to you with the new calibration values and a factory calibration report. In addition, Kapelan customers receive a new measurement file to ensure optimal use of the calibrated chart.
Take advantage of our grayscale chart calibration service. You will not only receive a sustainable solution for the further use of your charts, but also a cost-effective and fast solution directly from Germany. Rely on our SOP-defined processes within our ISO 13485 QMS to ensure accurate and reliable calibration.
The importance of regular calibration
Regular calibration ensures production safety and efficiency, compliance with quality standards and regulatory requirements, and compliance with quality norms. In addition, financial savings can be achieved by reducing product liability costs and extending the life of measuring equipment. Reliable and accurate calibration is an essential part of an effective quality management system and ensures that your measuring equipment meets current industry standards. It is therefore a crucial step in ensuring the precision and reliability of your measurements.
Rely on our calibration service
Contact us today to learn more about our Grayscale Chart calibration service. Rely on world-class solutions for your biomedical imaging needs and benefit from our dedicated team ready to assist you. We look forward to helping you achieve the best possible results and providing you with world-class solutions for your biomedical image analysis needs.

Calibration is made for grey value charts e.g. made by stouffer or Danes Picta. Offered by various companies as biostep and others.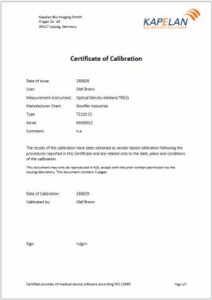 Sample calibration report
Download certificate as PDF