LabImage 1D Features
LabImage 1D is available in different versions for better fit of your requirements. Ranging from a free version (L300) with basic features up to the fully automatable L360 – LabImage 1D provides the features you need.
Lane and Band Detection
Minimize the time you spend on finding bands and lanes with the automatic and manual mode. Even bent or non-vertical lanes can be detected by optimized algorithms. Adjustable parameters and manual correction support the process.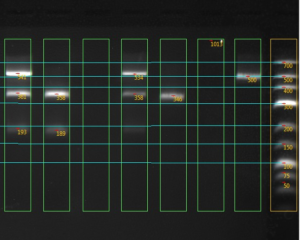 Molecular Weight Calibration
Use the supplied standard library to assign molecular weights to the gel. The MW calibration view lets you find the best out of six curve fittings for the gel. You can define own standards or download new standards from the web site.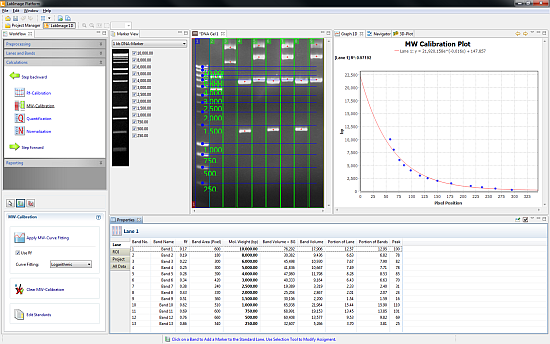 Reporting
Present your results to others! A 3D gel view allows interpreting the results easily. To summarize your data you can create consistent reports and documentaries.
Every report or data can be exported to other applications in standard formats.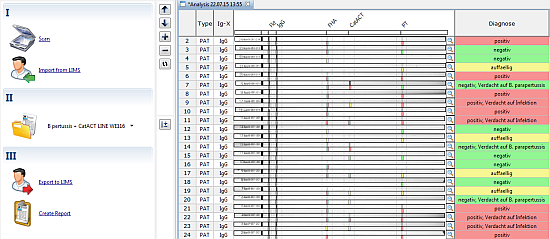 Automation
LabImage 1D L360 provides Macro features to fully automate the analysis of 1D gels.
Macros can be applied to either single images or image stacks providing you the power of high throughput analysis.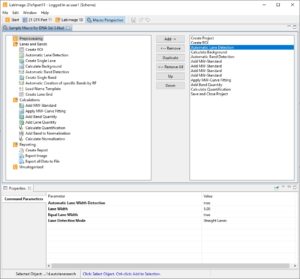 Dendrogram Features
The dendrogram tool of the LabImage 1D provides an automated creation of dendrograms by solid mathematical algorithms. The cluster analysis thus supports the user in the evaluation of gels and blots.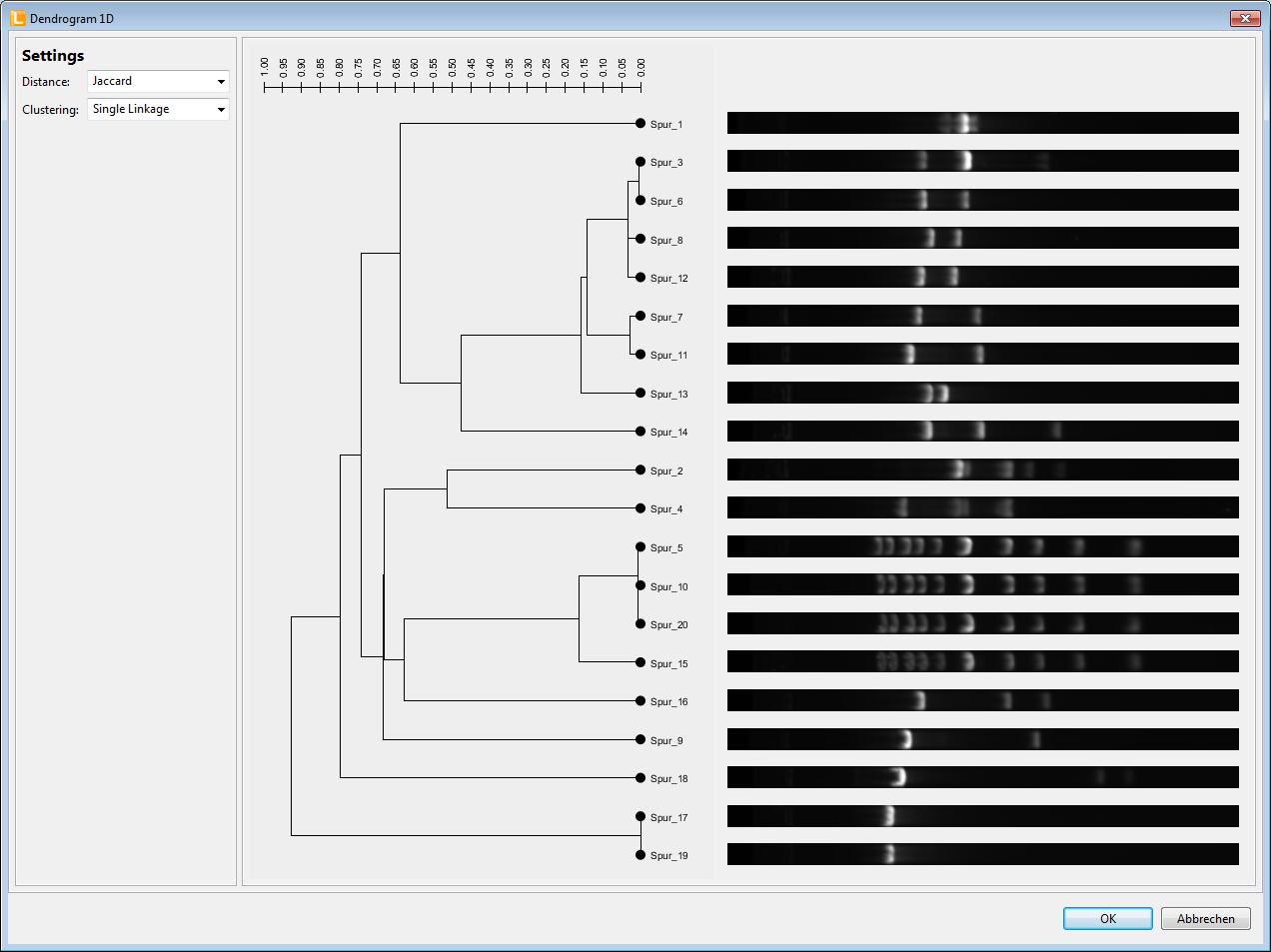 Project Comparator
Integrated into the LabImage 1D the project comparator is a helpful feature for comparison of gels or blots within different projects. Today this tool already works in our special development LabImage SPL and is also available as a standalone application to run multi-channel normalization across gels and blots.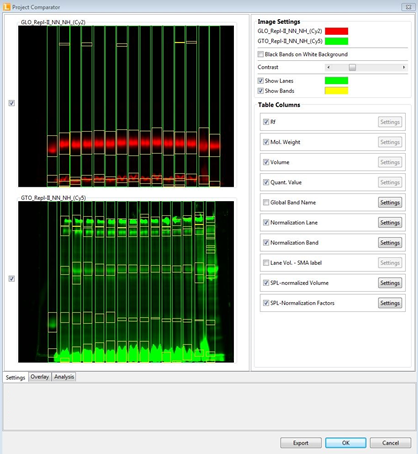 | | | | | |
| --- | --- | --- | --- | --- |
|   | LabImage 1D L300 | LabImage 1D L320 | LabImage 1D L340 | LabImage 1D L360 |
| Operating System |   |   |   |   |
| Windows Version (7, 8, 10, Server 12/16) | x | x | x | x |
| 32/64 Bit Version | x | x | x | x |
| Mac OS X Version | x | x | x | x |
| Linux Version, on request |   |   |   |   |
|   |   |   |   |   |
| Available Languages |   |   |   |   |
| English | x | x | x | x |
| German | x | x | x | x |
| more on request | x | x | x | x |
|   |   |   |   |   |
| Manual |   |   |   |   |
| Integrated in LabImage | x | x | x | x |
| Download Manual as PDF | x | x | x | x |
| On Website | x | x | x | x |
| Printed Manual (extra cost) | x | x | x | x |
| Integrated Brief Tutorial | x | x | x | x |
| Web based video tutorial | x | x | x | x |
| Tool Tips and Status Bar Hints | x | x | x | x |
|   |   |   |   |   |
| Update/Support |   |   |   |   |
| Online Update | x | x | x | x |
| Update with CD/DVD/File | x | x | x | x |
| Web-based Support System | x | x | x | x |
|   |   |   |   |   |
| Image Types / Import |   |   |   |   |
| Import Common Image Types (Tiff, JPG, BMP, PNG) | x | x | x | x |
| Import IMG/INF Formats (e.g. FUJI) | x | x | x | x |
| Full 16 bit Image Processing | x | x | x | x |
| Aquire Images from Scanner/Cameras (TWAIN) |   | x | x | x |
| Controlling of external devices (Optional) |   | x | x | x |
|   |   |   |   |   |
| Image pre processing |   |   |   |   |
| Crop, Rotate, Mirror |   | x | x | x |
| Image Filters: Noise, Sharpen etc. |   | x | x | x |
|   | LabImage 1D L300 | LabImage 1D L320 | LabImage 1D L340 | LabImage 1D L360 |
| Brightness, Contrast | x | x | x | x |
| Multiple ROIs (Region of Interest) |   |   |   | x |
|   |   |   |   |   |
| Lane and Band Detection |   |   |   |   |
| Full Automatic Lane Detection |   | x | x | x |
| Full Automatic Band Detection | x | x | x | x |
| Manual Lane Correction | x | x | x | x |
| Bend, Move Lane Box | x | x | x | x |
| Manual Band Correction | x | x | x | x |
| Lane Profile | x | x | x | x |
| Profil with multi Lane View | x | x | x | x |
| 3D Profile |   |   | x | x |
| Scalable Lane Profile | x | x | x | x |
| Apply Name Template |   |   | x | x |
| Lane Grid |   |   | x | x |
| Grimmace Correction |   |   | x | x |
|   |   |   |   |   |
| Background Noise Correction |   |   |   |   |
| None | x | x | x | x |
| Minimum Profile | x | x | x | x |
| Rolling Ball, Valley to Valley, Image Rectangle, Base Line (adjustable), Rubber Band |   | x | x | x |
| Preview Profile without Background | x | x | x | x |
|   |   |   |   |   |
| Calculation |   |   |   |   |
| Basic Values as: MW, Rf, Area, Band Volume, cal. Band Volume | x | x | x | x |
| Full Set of 27 Band and Lane Values (see manual) |   |   | x | x |
|   |   |   |   |   |
| Rf Calibration |   |   |   |   |
| Rf Calibration |   |   | x | x |
| Add RF Lines |   |   | x | x |
| Snap RF Lines to Band |   |   | x | x |
|   |   |   |   |   |
| Molecular Weight/PI Standards |   |   |   |   |
| Create own MW/PI Standards | x | x | x | x |
| Export MW Standards | x | x | x | x |
| Assign Sample Image to MW Standard | x | x | x | x |
| 6 Calibration Curve Types | x | x | x | x |
| Curve Types (linear, square, logarithmic, linear log., Lagrange, cubic splines) |   |   |   |   |
|   | LabImage 1D L300 | LabImage 1D L320 | LabImage 1D L340 | LabImage 1D L360 |
| MW Standard Editor | x | x | x | x |
| Multiple Standards for single Gel | x | x | x | x |
| Use Rf Correction for multiple Standards |   |   | x | x |
|   |   |   |   |   |
| Quantification |   |   |   |   |
| Assign absolute Values for Band | x | x | x | x |
| Added Amount per Lane |   |   | x | x |
| 6 Calibration Curve Types | x | x | x | x |
| Curve Types (linear, square, logarithmic, linear log., Lagrange, cubic splines) |   |   |   |   |
|   |   |   |   |   |
| Normalization |   |   |   |   |
| For single Band |   | x | x | x |
| Group of Bands |   | x | x | x |
| Calculation of Sum/Mean Volume |   | x | x | x |
|   |   |   |   |   |
| Reports/Export |   |   |   |   |
| Predefined Reports | x | x | x | x |
| Notes (boxes, arrows) |   | x | x | x |
| 3D Plot for Gel |   |   | x | x |
| Export Report to PDF |   | x | x | x |
| Export report to other formats (rtf, xls) |   |   | x | x |
| Print Reports |   | x | x | x |
| Personalized Reports |   | x | x | x |
|   |   |   |   |   |
| Automation/Batch Processing |   |   |   |   |
| Create Macros for Automation |   |   |   | x |
| All commands can be used in macro mode |   |   |   | x |
| Edit Macros in Editor |   |   |   | x |
| Apply Macro to single Image |   |   |   | x |
| Apply Macro to Image Stack |   |   |   | x |
|   |   |   |   |   |
| FDA 21 CFR Part 11 Compliance (Additional Module needed) |   |   |   |   |
| FDA 21 CFR Part 11 Compliance |   |   | x | x |
| Secure Data Storage in Database |   |   | x | x |
| User Management |   |   | x | x |
| Recording of Audit Trails |   |   | x | x |
| Create Reports for Audit Trails |   |   | x | x |
|   |   |   |   |   |
|   | LabImage 1D L300 | LabImage 1D L320 | LabImage 1D L340 | LabImage 1D L360 |
| More Features |   |   |   |   |
| Full Touch interface support | x | x | x | x |
| Data Storage in local Database | x | x | x | x |
| Data Storage in central Database (with optional Plug-In) | x | x | x | x |
| Multi User Access for Database (with optional Plug-In) | x | x | x | x |
| USB-Dongle Licenses (Hard-Lock) | x | x | x | x |
| File Based Licenses (Soft-Lock) | x | x | x | x |
| Online Licence Update | x | x | x | x |
| Access to LabImage Application Pool | x | x | x | x |
| Stand-Alone Licenses | x | x | x | x |
| Network Licenses incl. Server | x | x | x | x |
| Update Network Licenses | x | x | x | x |
| Export Analysis Data (CSV, XLS) |   |   | x | x |
| Export Analysis Data to Application |   |   | x | x |
| Export Analysis Data to Clipboard |   |   | x | x |
| Undo/Redo | x | x | x | x |
| Customizable User Interface and Preferences | x | x | x | x |